Want To Know What We Can Do For You?
Hands On Approach, a family-owned and operated Texas business has been training massage therapists since 1998. We have 2 locations, Dallas and Corpus Christi, TX serving students both in north and south Texas. The Texas Department of Licensing and Regulations require all schools to teach the same curriculum required to be eligible for a license.
www.tdlr.texas.gov/mas/forms/curriculumoutline500.pdf
Hands On Approach has modernized the curriculum for today's work environment and prepares you to pass the Mblex exam the first time and more importantly, we develop massage professionals ready to work the day they obtain their license.
The proof is in the thousands of successful graduates in our 23-year history. Our experienced instructors provide one-on-one instruction not by zoom or videos online but you guessed it, hands-on, in-person training starting the first day of class. Hands On Approach did not invent massage, what we have done is perfect a system to train the best therapists. If you are paying hard-earned money for education you deserve more than a YouTube education.
Making massage education affordable is what sets Hands On Approach apart from a college or a for-profit school.
We charge $8.25 per educational hour putting the student first over profit and you receive a high-quality massage education.
Completing our 570-hour program can save you $2267.50 while still including books and supplies with no gimmicks or federal loan debt.
We have very affordable, no-interest payment plans with no long-term commitment. We also offer several schedule options for real-life working adults. We have been dedicated to the promotion of the massage profession for over 27 years in Texas, and if we are that committed to the profession as a whole, then think about our commitment to our student's success in school and also their future success in the massage profession. We are always here for you.
Hands On Approach is the hands-down choice for the serious student wanting a rewarding career as Licensed Massage Therapist. Your future is in your HANDS and that future depends on school you choose today.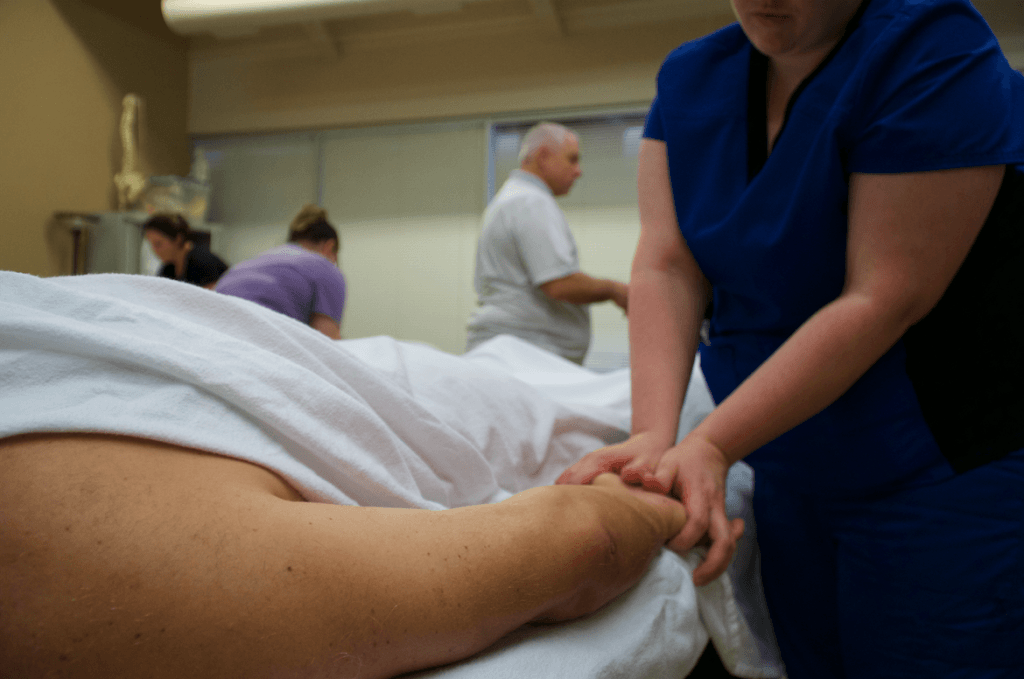 A Proven In-Person Curriculum
Hands On Approach provides advanced education with the required curriculum that is recognized for creating exceptional massage therapists. If you are comparing massage schools and are looking for a comprehensive education, take a closer look at our program and see what a first-rate massage school can offer you. Hands on Approach teaches the Swedish method, Pregnancy, Chair, Deep Pressure, Trigger Point, and how to work with clients with Cancer and other chronic and debilitative conditions with out making you take more than 500 hours.    Our in-class only presentation is designed by working massage therapists to give you the benefit of their experience – not something typically found in a traditional career school. You work hard for your money, and so do we! It's our pride and privilege to produce massage therapists so skilled that we only hire our own graduates.
A Program of Distinction
Hands On Approach Mission Statement: It is our mission to provide every student the knowledge and skills they need to immediately enter the workforce upon receiving their massage license. 
We designed our facilities to be first-class massage schools and day spas, giving students the type of environment conducive to learning all aspects of the massage profession in an atmosphere that is similar to the environment they will begin their professional careers in.
From our large training rooms to our private hydro, massage and jacuzzi rooms, the decor reflects a relaxed but well-organized educational program unmatched by traditional career schools.
The goal of Hands On Approach is to provide a high quality education in massage that could lead to a lucrative and rewarding career. Not all massage schools properly train students to be ready to go to work the day they get their massage license. Our students are fully prepared to go to work and won't need any additional training to land that first job or start their own massage therapist business.
As a massage therapist, your livelihood depends on the experience of your teachers and staff. Choose the school with educators who have helped paved the way for the massage profession in Texas! Our trainers have been in the business for over 22 years and have maintained a dedicated clientele who relies on their services. 
2The Financial Aid Challenge
You can make a great living as a licensed massage therapist, but it all starts with good training at a manageable cost. That is why picking the right massage therapy school is probably the most important decision you will make in your career.
The cost of a massage program at a traditional career or technical school can start at $10,200.00 before financing, and can be as high as $18,300.00. Our tuition is just $4615.00 for our 500-hour program. Or, save $2257.00 on our 570-hour program that includes the cost of supplies and books.
At Hands On Approach, we don't believe you need to go into debt to become a massage professional in an environment dedicated to massage and spa training! We offer in-house financing or private loans if you qualify. Please contact us for more details.