Want To Know What We Can Do For You?
Hands on Approach School of Massage
You can make a good living as a licensed massage therapist. But it all starts with good training. That is why picking the right massage therapy school is probably the most important decision you will make in your career.
The cost of a massage program at a traditional career school can start at $10,200.00 before financing and be as high as $18,300.00. Our tuition is just $4650.00 for our "500-hour program" or save $2264.00  on our 570-hour program and including the cost of supplies and books. At Hands on Approach we don't believe that you have to go into debt to become a massage professional in an environment dedicated to massage and spa training only! We offer in-house financing or private loans if you qualify.
All massage schools are not alike. Hands-On Approach School of Massage offers an exceptional massage therapy program that specializes in "real world" massage. Not only is Hands-On Approach a school, but we have one of the nicest spas and massage clinics in the area, dedicated to training the best therapists in Dallas, Texas. If you want to make a good living as a massage therapist, then learn how to give your clients what they want – a really great massage!
Massage schools have the responsibility of preparing their students for career success as massage therapists. Hands-On Approach prepares you to succeed as a massage therapist, providing proven techniques that can achieve exceptional results with your clients. Hands-On Approach was founded in 1998 with the idea that a student should not have to invest their hard-earned money in their education, only to have to take additional training upon graduation to be successful.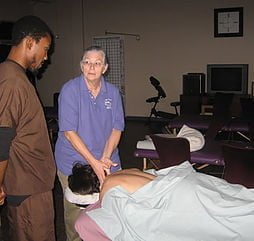 Hands-On Approach provides advanced education in its core curriculum that is recognized for "creating exceptional massage therapists". If you are comparing massage schools and are looking for a comprehensive education, take a closer look at Hands-On Approach and see what a first-rate massage school can offer you. Our curriculum is designed by working massage therapists to give you the benefit and expertise of their experience – not something typically found in a traditional career school. You work hard for your money, and so do we!
Hands-On Approach has designed our facility to be a first-class school and spa, giving a student the type of environment conducive to learning ALL aspects of the massage profession. From our large training rooms, to our private hydro, massage, and Jacuzzi rooms, the decor reflects a relaxed but well-organized educational program, unmatched by traditional career schools. Your livelihood depends on the experience of your teachers and staff, so choose the school with educators that have helped paved the way for the massage profession in Texas.